Do you need a Cosmetic Denture Makeover?
Dr. Dustin Kilby, D.M.D.
December 16, 2017
Cosmetic Denture Makeover
Are You In Need Of A Cosmetic Denture Makeover?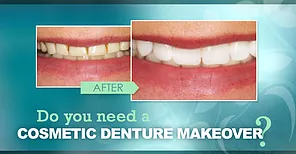 This female patient came into the office with old, worn, and stained dentures. The worn denture teeth were too short in relation to the lip line. As part of our cosmetic denture makeover, we changed the color which is obvious. We also increased the amount of tooth that shows when the patient smiles. Also, observe the shape of the teeth in the before and after pictures. The teeth in her before photograph are the shape you would see on a set of dentures designed for a man, not a woman. This is a much younger, much more feminine look for this patient. We also chose a much more cosmetic denture tooth. Even if you do not change the color, the shape and quality of the denture teeth can make a huge difference in appearance. Low quality denture teeth do not absorb and reflect light properly and add to the fake teeth appearance. In the end, we were able to make a new set of dentures that made her smile brighter and whiter. The patient is very pleased with the shape, color and fit of her new cosmetic denture.
Imagine what such an investment feels like to a person who has been hiding her smile for so long? The effects on a person's life are innumerable. A healthy mouth and bright smile bring self-confidence back into a person's life, which in turn will affect all those around her as well.
If you feel down, because of a cosmetic or medical problem with your teeth, you need to contact a dentist who can help you overcome this problem of a cosmetic denture makeover. If you don't have a dental home, we would love to welcome you to join our family at Kilby Family Dentistry. For more information check out the American Dental Association.