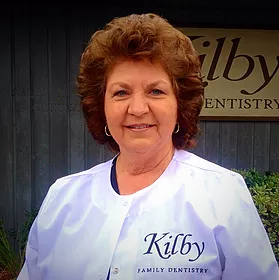 Juanita | Certified Dental Assistant
Juanita is Dr. Kilby's full time Dental Assistant and is an invaluable asset to our team. She has been working in the dental field for over 40 years and in that time has gained an immense amount of knowledge and experience that has left her incredibly skilled in her profession. Juanita has experience working in all aspects of Dentistry including Orthodontics, Perio Surgery, Oral Surgery, Implants and General Dentistry. She is continually crafting her skill through Continuing Education Courses and has completed her Certifications in CPR, X-Ray Technician, and other expanded functions. Juanita is meticulous in her work environment and you can often find her hard at work, long after the business day has ended. During her free time, Juanita enjoys spending time with her family, sewing, fishing, playing piano, and bike riding. Juanita loves dentistry and finds joy in caring for her patients!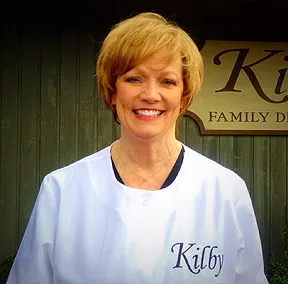 Janice | Receptionist
Janice is the smile that greets you when you walk in the door at Kilby Family and Cosmetic Dentistry. She is the front of our practice, serving you as our Receptionist and Office Manager. Janice is a versatile member of our team, and you may even find her serving as Dr. Kilby's Dental Assistant when needed. She began her career in dentistry 40 years ago as a Dental Assistant. After discovering her love for Dentistry, she pursued an Associate Degree in Dental Laboratory Technology from the Medical College of Georgia in Augusta, Georgia. After receiving her degree, Janice proceeded to own and operate a Dental Lab for approximately seventeen years. Janice enjoys spending time with her husband, George, three children, and four grandchildren. She also loves to travel, paint, draw, and garden in her free time. Janice enjoys people and helping them with their dental needs and concerns and looks forward to meeting and building lasting relationships with our patients!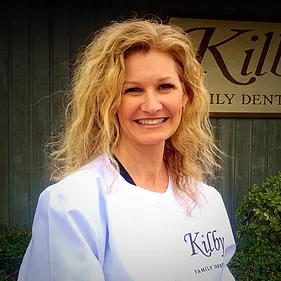 Sankie | Registered Dental Hygienist
Sankie is one of our amazing Registered Dental Hygienists! After graduating from Valdosta State University and Val-Tech in 2000, Sankie has gained over fifteen years of experience serving as a Dental Hygienist. We are proud to say that eleven of those years have been with this very office! Sankie enjoys spending time with her husband, Jimmy, four children, Cameron, Tanner, Emma Rylie, Anna Lynn, and their family dog, Max. You can often find her camping with her family, sewing, grilling out, and going to the beach any chance she gets! Sankie's favorite thing about being a Dental Hygienist is getting to know each patients specific need(s) and helping meet those individually. She is very passionate about helping patients understand the importance of their oral health and considers getting to know patients on a personal level a bonus!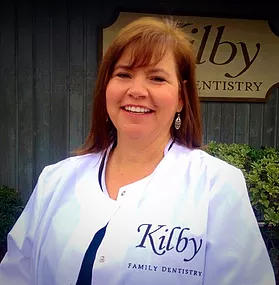 Kim | Registered Dental Hygienist
Kim serves as one of our incredible Registered Dental Hygienists! She has over 28 years of experience working in the field of Dentistry, since graduating from Trident Technical College with her Dental Assistant Diploma in 1987. Kim went on to earn her Associate of Science Dental Hygiene degree from the Medical University of South Carolina in 1992. She is a fundamental part of our team, with a history of serving as a Dental Assistant, Receptionist, Insurance Benefit Coordinator, and also participating in many dental health fairs for the community. Kim enjoys spending time with her husband, Mark, and two children, Jarred (21), and Megan (17). In her free time, Kim likes to cook, share recipes, travel and ride the Harley with her husband! Kim strives to be a gentle and caring clinician that makes patients comfortable and at ease while having treatment!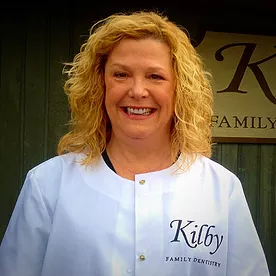 Shelli | Business Manager
Shelli serves as our Business Manager at Kilby Family and Cosmetic Dentistry! After working part-time as a Dental Assistant during college, she went on to accept a full-time position. She has worked an incredible 37 years in the field of Dentistry and is an integral part of our practice. Shelli has an infectious laugh and can almost always be found wearing a smile! She enjoys spending time with her husband, Bobby, and two children. In her free time, you can often find her reading or exercising. While managing the back of the house, Shelli still manages to create wonderful relationships with our patients!