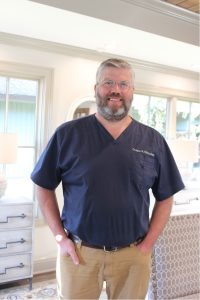 Dustin R. Kilby, D.M.D. was born and raised in Tifton, Ga, just a few miles north of Valdosta. Growing up with a strong family background in farming and agriculture, he began his collegiate career pursuing a degree in just that. It wasn't until his second year of college that he felt a calling down a completely different path.
In 2002 Dr. Kilby attended Abraham Baldwin Agricultural College of Tifton, Ga where he graduated Cum Laude with an Associates of Applied Science in Business Administration.  He made the President's List one semester, the Dean's List 3 semesters, and Distinguished Achievement one semester. Dr.  Kilby was also awarded the James E. Zorn Memorial Scholarship during his time at ABAC.  During his time at ABAC, he discovered a passion for the healthcare industry. Dr. Kilby has always had a heart for others and after much consideration he answering the strong calling into the field of dentistry.
Dr. Kilby continued his education by earning his undergraduate degree from Valdosta State University, graduating Cum Laude with a Bachelors of Science in Biology during which he achieved the Dean's List all semesters.
Upon completing his Bachelor's Degree, Dr. Kilby enrolled in Troy State University. He graduated Summa Cum Laude in 2009 with a Master's Degree in Healthcare Management as well as remaining on the President's List and the Dean's List all semesters.
Throughout undergraduate and graduate school, Dr. Kilby maintained a Cumulative GPA of 3.87
In 2009, he was accepted into the Medical College of Georgia of Dental Medicine. After completing his four year tenure, he graduated from the Medical College in May 2013.  Dr. Kilby maintained a Cumulative Grade Point Average of 3.73, ranking 8th in his class of 63 students. While at the Medical College of Georgia, he was granted with multiple honors: The Thomas P. Godfrey Scholarship, The Omicron Kappa Upsilon (OKU) Kappa Lambda Academic Achievement Award, and the Emile T. Fisher Scholarship.  Dr. Kilby was also highly honored, being chosen by his peers to receive The "Dolly Award" in which students were asked which classmate they would choose as their personal Dentist. In addition, he was selected by the Faculty to be awarded the Quintessence Award of Clinical Excellence.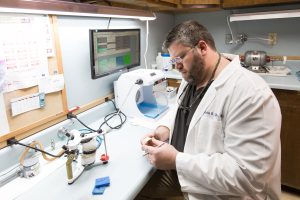 During Dr. Kilby's time in Augusta, he volunteered in several community service projects, including serving for Christ Community Dental Clinic/Hope Ministries Downtown Clinic, participated as a Dentist for Della "Stand Down" Team Member in 2011, as well as serving with the Boys & Girls Clubs of Augusta.
In addition, while attending the Medical College of Georgia, Dr. Kilby served as a MCG Ambassador, an American Student Dental Association (ASDA) Legislative Education Committee Chair Member, and was involved in the MCG Mentor Program where he mentored incoming Freshmen Dental students. Kilby also served as a Community Education Outreach Officer where he was a Volunteer Coordinator and Tutor for Augusta State University.  He was also Associate Vice President of Organizational Affairs Search Committee Representative and served as the MCG student body representative in the search for the MCG Associate Vice President of Organizational Affairs where he assisted in interviewing applicants, and voted on behalf of the MCG student body. Lastly, Dr. Kilby served as the Business Editor for the MCG Greater Access to Providers (GAP) Project in 2011.
After graduating from MCG, Dr. Kilby was accepted into the Advanced Education in General Dentistry (AEGD) Residency Program at the Charlie Norwood VA Medical Center in Augusta, GA.  Only two candidates nationwide were selected into the VA Residency. Within the AEGD, he received extensive training in oral and periodontal surgery, dental implant placement, restorative dentistry, cosmetic dentistry, endodontics, and Sedation dentistry.  Additionally, he gained the valuable experience of working with medically compromised patients and performing procedures in a hospital setting. Dr. Kilby is a member of the American Dental Association, Georgia Dental Association, and the Academy of General Dentistry. Upon completing the one year residency, Dr. Kilby and his family moved back to South Georgia in the summer of 2014.
Dustin married his wife, Lyndsey, in April of 2009 and they have three sons, Brooks, Bowen, Banks, and a daughter on the way, Ella Katherine . Dr. Kilby loves spending time with his wife and their two little boys. He enjoys serving at church, watching college football, fishing, hunting, and riding ATVs.  He is an avid Nascar fan and loves any and all things racing. Dr. Kilby still has a passion for his farming roots and loves any opportunity to jump on a tractor.  His favorite movie is Christmas Vacation and you can catch him quoting a line from the film almost daily. He is continually trying to perfect his joke telling skills, so if you have any good ones he would love to hear them.
Dr. Kilby is excited to finally be back in South Georgia. He has always had a heart for his local community and is looking forward to diligently offering his services to Valdosta.