MYTH: Children don't need a dentist since baby teeth fall out anyway.
Dr. Dustin Kilby, D.M.D.
February 15, 2018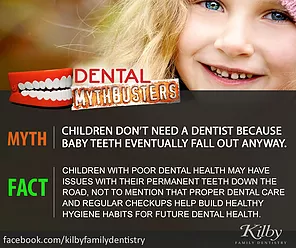 FACT: Proper oral care at an early age will allow your child to continue these practices throughout their life. Not to mention, poor dental health for baby teeth can cause issues with permanent teeth.
At Kilby Family Dentistry, we always welcome patients of any age and pride ourselves in being gentle, affordable, and treating all our patients like family. If you would like to find a dental home for your child or any member of your family, call Kilby Family Dentistry at (229) 415- 7703.