What is the procedure for Full Mouth Rehabilitation?
Dr. Dustin Kilby, D.M.D.
August 3, 2019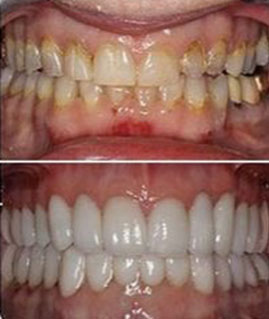 Full mouth rehabilitation is a highly individualized treatment. The point of a restorative dentistry plan is to optimize the health of the entire mouth, including the teeth, the gums, and the bite. In many cases, it is necessary to replace or restore every tooth in the mouth using a combination of dental services.
Full mouth rehabilitation may include any of the following cosmetic and restorative dentistry services:
Dental bridges: A fixed dental restoration (a fixed dental prosthesis) used to replace one or more missing teeth by joining an artificial tooth definitively to adjacent teeth or dental implants.
Dental crowns: most commonly refers to a dental cap, a type of dental restoration that completely caps or encircles a tooth or dental implant.
Dental implants: A prosthesis that interfaces with the bone of the jaw or skull to support a dental prosthesis such as a crown, bridge, denture, or facial prosthesis or to act as an orthodontic anchor.
Inlays or Onlays: are used to fill cavities, and then cemented in place in the tooth.
Porcelain veneers: A layer of material placed over a tooth. Veneers can improve the aesthetics of a smile and protect the tooth's surface from damage.
Professional-grade teeth whitening: Or tooth bleaching is the process of lightening the color of human teeth.
Fillings: To treat a cavity your dentist will remove the decayed portion of the tooth and then "fill" the area on the tooth where the decayed material was removed.
Dentures: An artificial substitute for some or all of the natural teeth and adjacent tissues.
For more information check out what the American Dental Association has to say.