What is the procedure for Full Mouth Rehabilitation?
Dr. Dustin Kilby, D.M.D.
August 3, 2019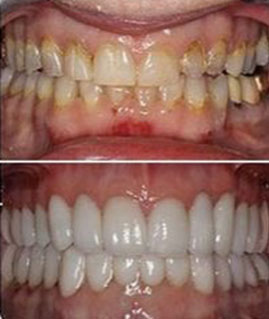 Full mouth rehabilitation is a highly individualized treatment. The point of a full mouth reconstruction plan is to optimize the health of the entire mouth, including the teeth, the gums, and the bite. In many cases, it is necessary to replace or restore every tooth in the mouth using a combination of dental services.
Full mouth rehabilitation may include any of the following cosmetic and restorative dentistry services:
Dental bridges
Dental crowns
Dental implants
Inlays or on-lays
Porcelain veneers
Professional grade teeth whitening
Fillings
Dental Implants
Dental Crowns
Dentures
Dental Fillings