Teeth whitening, at home versus at the dentist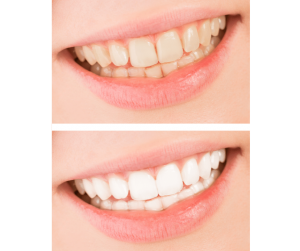 Do you want whiter teeth, but you're not sure which way to go? There are two overall options for teeth whitening, at-home versus at the dentist office. 
There is a wide variety of at-home teeth whitening products. There is mouthwash, toothpastes, gel strips, and trays. Products like mouthwash and toothpastes are typically used for whitening overtime, so if you are looking for quick whitening results, this may not be the product for you. Gel strips and trays are the better options for quick results for whitening at-home. Whitening strips are to typically be worn on your teeth for about two hours and for long-lasting results should likely be worn for several consistent days at a duration of a couple of hours per wear. Over the counter whitening trays is the biggest product on the market as of now. The issue with over the counter trays is they are not ideally customized to fit your teeth. The trays can cause irritation to your gums because of the being a product non-custom fit to your teeth. 
In-office teeth whitening procedures include fabricating custom-made trays to be used with a professional bleaching solution. For this method, impressions are taken in the dentist office to fabricate a mold of the patient's teeth in order for the customized tray to be made to fit correctly. After the trays are made, a dental professional will deliver the trays to the patient and verify that the trays are contoured exactly how they should be.
Prior to committing to either bleaching method, consult with a dentist and verify that this would be a good option for you to whiten your smile. It is important to have good if not excellent oral health prior to bleaching. Any teeth that harbor any areas of decay may experience mild to severe sensitivity if not expand into pain once bleaching products are applied to the affected areas. Any teeth that have any existing restorations (resin bonding, veneers, crowns, bridges, etc.) will not be susceptible to bleaching due to the non-porous material that is used. If you feel that you fall into either or of these areas, please consult with a dentist prior to making this decision.