What is a General Dentist?
Zeth@acquireddigitalmarketing.com
October 24, 2022
What Is A General Dentist?
Your family dentist is usually your go-to for all dental needs - and there's a good reason for that. General dentistry is focused on preventing disease, and it's estimated that nearly 65 percent of all dental procedures are either diagnostic or preventive. This means that by keeping up with oral health and hygiene, general dentists can help people avoid the progression of oral diseases. If left untreated, these diseases can cause pain, lost time at work or school, and billions of dollars in medical costs each year. So next time you're due for a check-up, remember that your family dentist is there to help keep you healthy!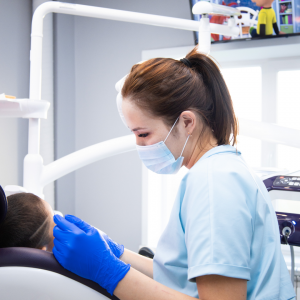 What Does A General Dentist Do?
Most people don't realize that 143,000 dentists are practicing in North America. Out of those, around 80% are general dentists. General dentists provide a wide array of services that are vital to your continued oral health, including:
Preventive services
Regular exams and professional teeth cleanings are the best way to prevent disease and keep your mouth healthy. Your dentist can give you specific instructions on how to improve your at-home oral hygiene and may also recommend preventive treatments like sealants if necessary. If you lead an active lifestyle, your dentist can also fit you for a custom-made mouth guard.
Restorative Services
No matter what dental issue you're facing, your dentist will be there to provide prompt and appropriate treatment. One of the most common (and highly effective) treatments for tooth decay is removing the decay and placing a filling in the affected tooth. But that's not the only procedure that general dentists provide. They also offer treatment for dental trauma, like a broken, loosened, or knocked-out tooth. General dentists can diagnose and treat the causes of tooth pain or periodontal (gum) disease. They may also offer treatments for missing teeth, place crowns or bridgework, and help you get fitted with dentures. Some provide more advanced treatments, such as root canal therapy, orthodontics, and dental implants.
Cosmetic Procedures
If you're looking to achieve a brighter smile, your general dentist can help you out with a range of cosmetic procedures. This can include teeth whitening, cosmetic bonding, and even porcelain veneers. So don't hesitate to ask about a smile makeover the next time you visit your dentist!
When Should I See A General Dentist?
It's generally recommended that you visit the dentist every six months for preventative care. But if you have any concerns about your oral health or are interested in a cosmetic procedure, don't hesitate to give us a call. We're always happy to answer any questions you may have.
Your smile is one of your best assets, so it's important to take care of it! Depending on your circumstances, your dentist may recommend that you come in for a checkup and cleaning every six months, every three months, or some other interval. Regardless of the schedule, it's important to stick to it. In addition to seeing your dentist regularly, practicing good oral hygiene at home is the best way to prevent dental disease and keep your smile looking its best. For more information, check out the American Dental Association.