What is cosmetic dentistry?
Zeth@acquireddigitalmarketing.com
October 24, 2022
At our office, we believe that your smile should be something you're proud of. We offer a variety of cosmetic dental procedures to help improve the appearance of your teeth, including teeth whitening, dental bonding, and veneers. Let us help you achieve the beautiful smile you've always wanted.
What's the difference between cosmetic dentistry and general dentistry?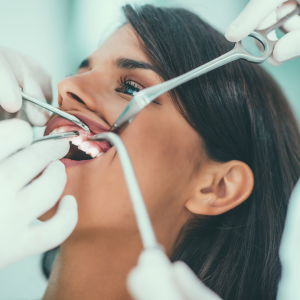 A dental visit to your friendly neighborhood dentist isn't just about keeping your smile looking good. It's also important for maintaining your oral health! General dentists offer preventive care, like teeth cleanings, and restorative treatments, such as dental fillings, crowns, and bridges. Most procedures restore both the appearance and function of teeth. However, a cosmetic dentist focuses on beautifying your smile. They offer treatments aimed at improving the appearance of your teeth and gums.
Who benefits from cosmetic dentistry?
You might benefit from Cosmetic Dentistry if you have:
Chipped or cracked teeth.
Small gaps or spaces between your teeth.
Tooth discoloration and staining.
Misshapen teeth.
Misaligned teeth.
What are examples of cosmetic dentistry?
With cosmetic dentistry, we aim to create beautiful smiles that are balanced and symmetrical. Common treatments include teeth whitening, dental bonding, veneers, and tooth and gum contouring. We individualize each treatment plan to help you achieve the smile of your dreams!
Teeth whitening
When it comes to teeth whitening, many dentists offer both in-office and at-home options. In-office whitening is a quick process that takes about an hour to complete, while at-home whitening usually takes a couple of weeks. No matter which route you choose, you can expect dramatic results that will leave you with a brighter smile.
Dental bonding
Dental bonding is a great way to cover up cracks, discoloration, and other cosmetic imperfections. Your dentist can use this material to change the shape of a tooth to make it longer, wider or more uniform. Dental bonding usually lasts for five to seven years and doesn't require the removal of natural tooth enamel, so it's completely reversible.
Porcelain veneers
Porcelain veneers are thin, strong shells made of medical-grade ceramic. They can be used to conceal a wide range of cosmetic flaws, including chips, cracks, and discoloration.
There are many types of veneers, including traditional and minimal prep. All veneers require at least some removal of natural enamel, which means they could be reversible depending on which kind you choose. In most cases, porcelain veneers need replacing every 10 years or so.
Recovery time
The amount of time it takes to recover from a cosmetic dental procedure varies depending on the type of procedure and how many teeth are being treated. For example, someone who has dental bonding on just one tooth can resume normal activities right away. However, someone who has had gum contouring done may need to take a day or two off work to recover fully. Your dentist will be able to give you an idea of what kind of recovery timeline to expect.
For more information, check out the American Dental Association.