What should clients expect when going in for veneers?
If you are preparing for veneers, here are some helpful tips
Veneers provide a patient with the smile that they desire and are a good option for cosmetic dentistry.
Before you get your veneers, you will have an appointment with your dentist to discuss which options are right for you, how many veneers you want to have placed, and an evaluation of your teeth's overall health.
Most patients will need more than one appointment with a veneer dentist in order to have veneers placed. During the time the patient is home between visits, he or she may experience slight discomfort from the work that prepares the tooth. The patient may notice sensitivity to hot and cold foods. It may also be difficult to eat tough or sticky substances. However, this is all normal and part of the process!
At Kilby Family and Cosmetic Dentistry, we offer a virtual smile consultation to make this even easier.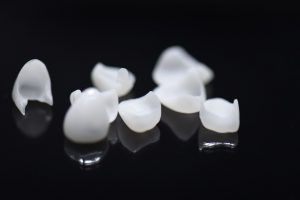 Once determine the preliminaries, your dentist will trim down your tooth to take a mold of your teeth to create the veneer(s).
Veneers only cover the surface of a tooth and will wrap around to the backside to provide stability. The veneer is then bonded to the tooth.
Once the procedure is completed, it is best to avoid chewing on anything with heavy force on the teeth that have veneers. Biting your fingernails and opening items with your front teeth that have or do not have veneers is also something to avoid.
Following the precautions set by your Dentist will help prolong the bond and prevent any possibility of the veneer coming off.
For more information about preparing for veneers check out these other articles by the American Dental Association
Contact us today to set up your free consultation.