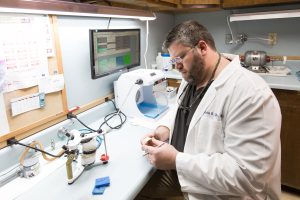 Dentures, or false teeth, are prosthetics constructed to replace missing teeth. They are usually supported by surrounding soft and/or hard tissue of the oral cavity.
Conventional dentures are removable, though there are many designs. Some of these denture designs are different, and rely on bonding or clasping onto teeth, or dental implants.

This is the replacement of a few teeth with other teeth still present to hold the denture.
This prosthesis comes in and out of your mouth each day for cleaning purposes. Because it is removable, it is more mobile in your mouth that the other treatment options such as a fixed bridge or an implant.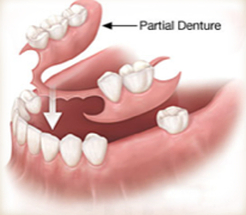 Although this is no longer our first choice in the replacement of teeth, partial dentures have been around for years and for many are a viable alternative to other treatment modalities.
When all of your upper and lower teeth are missing, a full denture is a good treatment option for replacing them. Dentures have many benefits.
Dentures enable you to eat nutritious foods more easily and to speak more clearly. They support your lips and cheeks for a more attractive and youthful appearance.
Dentures are artificial teeth that are fabricated from impressions taken by Dr. Kilby. These prostheses are custom fit to your mouth over a few appointments.
Many people believe that their dental problems will be over if they simply have their teeth removed and replaced with dentures. Instead, as most denture wearers will tell you, getting dentures can mark the beginning of many new problems.
The first is eating takes much longer because you can only apply about 15% to 20% of normal force when chewing with dentures. They also make many foods more difficult to eat. Tasting food can also be more difficult since the dentures cover many of the taste buds in your mouth.
Patients often tell us their lower dentures "float around". This is because your tongue is a strong muscle and dislodges the denture. Gagging is a typical complaint with the upper dentures and people with a strong gag reflex find them impossible to wear.
When you add up all the costs, dentures can end up being more expensive that the treatment to save your natural teeth. Many patients are electing to get implants placed to increase retention for their dentures.
Others choose to have full mouth rehabilitation with implants and crowns to regain almost all of their bite force.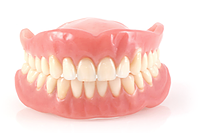 To care for your dentures you should remove and brush them daily with a toothbrush and toothpaste over a sink full of water to prevent your denture from breaking if you accidentally drop them.
To protect your denture, avoid chewing ice or other hard objects.
Unless we tell you otherwise, remove your denture for sleeping or at least for 6 to 8 hours a day.
Store your denture in water mixed with alcohol free mouthwash or a soaking solution whenever it is out of your mouth, so it does not dry out.
It is also important to continue regular visits to our office to maintain proper fit, and to ensure that your oral tissues remain healthy.